Hélie Bourbeau
was born in La Rochelle in 1596. He married Marguerite Reneault in Poitiers, France. The latter died toward 1642 and Hélie remarried to Marie Noiron on January 24, 1644. He was Calvinistic. He would have had six children with his first wife and seven with his second. Two of his sons emigrated in Nouvelle-France; they are:
His son:
Pierre Boubeau dit Lacourse, born from his second wife on 2rd August 1648 and baptised on 22th August 1648 in the protestant church of Notre-Dame-de-Cogne in La Rochelle. He came to Canada in 1666 and dwelt among his step-brother in Cap-de-la-Madeleine. He married Anne Besnard 14 years old, (daughter of René Besnard sieur Bourjoly and Marie Sedulot) in Three-Rivers on October 21, 1676. He died in Bécancour on May 11, 1710. He had a family of twelve children who were all born at Cap-de-la-Madeleine but he moved to Bécancour where he purchased a land. He is the Canadian ancestor of Bourbeau, Verville, Carignan and Beauchesne families.
His son:
Joseph Bourbeau dit Beauchesne, was born at Cap-de-la-Madeleine on February 26, 1699 and was baptized the next day. His first wife, Madeleine Leclerc was born in 1701 from the marriage of Florent Leclerc and Jeanne Aubuchon. She died in Bécancour on November 6, 1728, leaving to Joseph a baby of eight months. Four years later on October 4, 1732 Joseph remarried with Marguerite-Agathe Bigot, daughter of François Bigot and Marie-Anne Perrot born on April 12, 1717. Joseph had a child with his first wife and 12 children with his second wife.
Joseph had a son who was called Joseph as his father. Joseph Bourbeau dit Beauchesne (2) married Marguerite Grondin, daughter of Louis Grondin and Marie-Anne Lagace-Mignier, on September 22, 1777 in Saint-Pierre-les-Becquets
Their son:
François Bourbeau dit Beauchesne married Marie-Marthe Trottier on April 29, 1806 in Saint-Pierre-les-Becquets. She was the daughter of Jacques Trottier and Brigitte Mailhot. In year 1840 François moved with his family to St Norbert-de-Sommerset close to Victoriaville. The Beauchesne were among the pioneers of the Bois-Francs region. They had thirteen children:
François Bourbeau;
Damase Bourbeau;
*Moyse Bourbeau dit Beauchesne;
Placide Bourbeau;
Israel Bourbeau;
Onésime Bourbeau;
Marguerite Bourbeau, married to Pierre Gauron on June 23, 1829 in Gentilly;
Angelique Bourbeau, married to Gérôme Fish on November 28, 1826 in Gentilly;
Rosalie Bourbeau, married to Andre Nadeau on October 28, 1839 in Gentilly;
Julie Bourbeau, married to Toussaint Grondin on November 22, 1844 in St. Norbert-de-Sommerset;
Euphrosine Bourbeau, married to Isaïe St-Hilaire on May 12, 1844 in St. Norbert-de-Sommerset;
Justine Bourbeau dit Beauchesne, married to Pierre Grondin on November 6, 1843 in Arthabaska;
Ozithe Bourbeau.
*Moyse Bourbeau dit Beauchesne
married in Gentilly to Marie-Celeste Grondin, daughter of Joseph Grondin and Marguerite Hamel, on August 20, 1839. Once established in St Norbert-de-Sommerset, Moyse ceased to bear the name of Bourbeau. It will now be Moyse Beauchesne and its descendants will strictly be Beauchesne. Moyse and Celeste had four children: Clovis, Octave, Marcellin and Ernest.
Octave Beauchesne
, my grandfather, will continue the lineage and will extend its offspring in the down St. Lawrence river region, especially in St. Fabien.
Moving to Saint-Fabien
In 1870, Moyse Beauchesne, his wife and two children (Octave and Marcellin) moved to St. Fabien in the Lower St. Lawrence region. Octave which covered the sobriquet of Robinson was 26 years old and his brother, Marcellin, 23 years. They both followed their parents to St. Fabien where Octave was employed by the Intercolonial Railway Company, who were to complete the Riviere-du-Loup to Mont-Joli railroad in 1873. Octave remained in the employment of this company still a dozen years and then purchased a land in the fifth row of the parish. He was a nostalgic boy who often focused the pages of the pages of the book of his life to review its nice home parish, St. Norbert d'Arthabaska. For most people it was nothing remarkable but for him, it perpetuated a remembrance of the family very dear to his heart.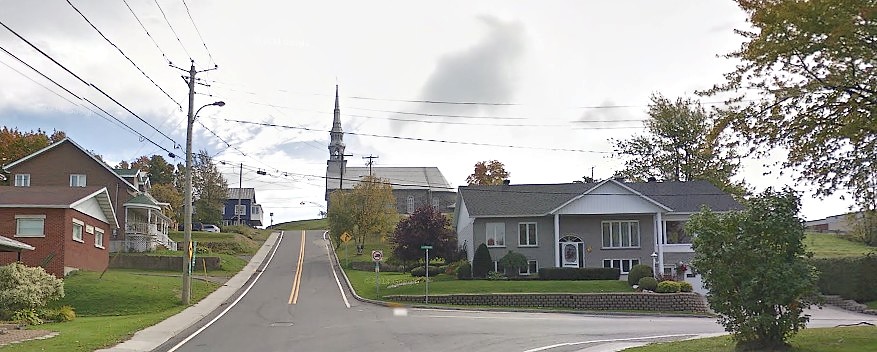 Saint-Norbert d'Arthabaska, developped by Beauchesne and other pioneers.
Pioneers of the Bois-Francs region
Octave's grandfather, François Bourbeau was one of the pioneers of the Bois-Francs region. He came to St.Norbert toward 1840, with his family. It's here that Octave was born in 1844. Soon the forest disappeared to make place to green meadows. And at the center of this huge landscape will soon appear a nice small village around a tidy church. In this paradise, Octave had experienced happy childhood and teenage years.
Now established in his country of adoption, Octave will work hard until 1876 when he married Virginie Bébubé, 27 years old, native of St. Fabien, a descendant of the ancestor Damien Berube, one of the first settlers of Riviere-Ouelle. They had many children and in September 1905, Virginie dies at the age of 47 leaving a household of 8 children: Marie-Palmire, 22 years, Conrad, 20 years, Désiré, 18 years, Marie-Anne, 16 years, Florida, 12 years, Diana, 8 years, Charles Eugene, 6 years and the youngest Rose-Aimee (my mother), 2 years old.
A few years after the death of his wife, Octave sold his land and went to live with his children. He lived a few years with his children who had emigrated to the United States at Lewiston in Maine and Fall River in Massachusetts.
In December 1932, he fell ill while he was visiting his son Désiré in Montreal. He died on December 30, 1932 and was buried in the Cimetière de l'est in Montreal. He was 88 years old.